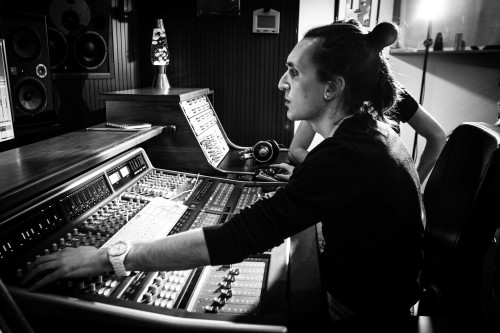 ITA:
UP Studios è lo studio di registrazione di proprietà di Ugo Poddighe, produttore musicale con formazione di ingegnere audio e studi musicali a livello universitario in Italia e all'estero (IUDEM, T.A.S., SAE Institute, Middlesex University).
Gli UP Studios nascono con l'intento di creare uno spazio per gli artisti, un misto di avanguardia tecnologica, di design ricercato e di professionalità.
Ugo Poddighe, produttore e mente degli UP Studios, si è avvalso dell'esperienza e professionalità del Dottor Marco Fringuellino per la progettazione dell'acustica, ad oggi tra le più curate fra gli studi presenti sul territorio italiano.
La ricercatezza e la qualità sono date non solo dalla strumentazione di cui dispongono gli studi, ma anche dall'approccio innovativo utilizzato in ogni progetto, caratterizzato da quel know-how made in U.S.A. che oggi rende competitivo un progetto discografico. Ugo Poddighe infatti si è arricchito di numerose esperienze negli Stati Uniti ed in Sud America che lo hanno aiutato ad approfondire la ricerca del suono che negli ultimi anni sembra essersi perduta e che invece dovrebbe essere tratto distintivo di ogni singola produzione musicale.
Gli studi dispongono di tre diverse sale di incisione con timbri e tempi di riverbero diversi tra loro: Live Room, Brick Room e Vocal Booth. La Control Room è stata progettata su modello "ZR" (Zero Reflections), con sala macchine separata. Il cuore della regia sono la console, i pre-amplificatori e i convertitori Solid State Logic di ultima generazione, il sistema Pro Tools HDX e multipli processori outboard.
Gli UP Studios sono stati inoltre pensati per offrire ai suoi clienti una location con forniture allo stato dell'arte, immersa nel verde, lontana dai frastuoni della città, ma a pochi minuti da Milano e facilmente raggiungibile coi mezzi e in auto, dotata di un'area parcheggio riservata e di un'area café-relax.

ENG:
UP Studios is the recording studio of Ugo Poddighe, music producer and audio engineer with university level degrees and musical studies in Italy and abroad (IUDEM, T.A.S., SAE Institute, Middlesex University).
The UP Studios are born with the intention of creating a space for artists, a mix of cutting-edge technology, refined design and professionalism.
Ugo Poddighe, producer and mind behind the UP Studios, has made use of the experience and professionalism of Dr. Marco Fringuellino for the acoustic design, today the most refined among the Italian territory.
The refinement and quality are given not only by the equipment available in the studios, but also by the innovative approach used in every project with the know-how made in U.S.A. which today makes competitive a recording project. Ugo Poddighe, in fact, has been enriched by numerous experiences in the United States and South America that helped him to deepen the search for the sound which in recent years seems to have been lost, and that it should be a distinctive feature of each and every musical production.
The studio has three different rooms of etching with stamps and different reverberation times between them: Live Room, Brick Room and Vocal Booth. The Control Room has been designed on the model "ZR" (Zero Reflections), with a separate engine room. The heart of the control room are the console, pre-amps and converters of the latest generation of Solid State Logic gear, Pro Tools HDX and multiple outboard processors.
The UP Studios have also been designed to offer to customers a location with state of the art supplies, immersed in nature, far from the noise of the city but just a few minutes from Milan and easily accessible by public transport and by car, equipped with a reserved parking area and cafe-relax area.